【 Ready For Ship】DokiDoki-SR Final Fantasy VII Tifa Lockhart Cosplay Costume Women
Q: What is ready for ship/in stock/presale?

Ready For Ship:

The ready for ship items can be shipped out in 1-2 business days after you place the order! If you need something urgently, we recommend you choose the【Ready For Ship】items!

In Stock:

The order processing time of the【In Stock】items is about 7-10 days normally. Except the shoes.

The order processing time of the【In Stock】shoes is about 10-15 days normally.

Presale:

Presale means the item is under production right now. 

The processing times for presale items are estimated based on the factory's past production experience, we can't promise it will delay or come out sooner.

And the processing time varies for each presale product, please refer to the product details page!

When one batch comes out, preorders will be shipped out according to the sequence of ordering time! (oldest order placed will be sent first) 

Additions:

1.You can order the presale/instock/ready for ship items together.

2.The order processing time won't change no matter what shipping options you choose.

3.In most cases, we will ship your order within promised estimated time, just in case, the product status changes from in stock to presale, we will notify you or you can email us for latest progress.

Contact email: dokidokicosplay2019@gmail.com
Q: What is the estimated time of arrival?

The arrive time=Order Processing time (as shown above)+Transportation time

Transportation time:

Transportation time depends on the shipping options you choose: 

*Express Shipping:  7-10 days

*Commercial Shipping: 10-25 days

*E-Packet/China Post: 25-75 days 

You will see 2-3 shipping options when checkout!

If there is no shipping option, it is probably because you have too many items in your cart or the items are too heavy, we suggest you divide it into two orders, don't worry, the shipping fee is the same as if you order them together! 

Parcel tracking:

After the order is shipped, you will receive a shipping confirmation email with the tracking number and tracking link.

If you find that the status of your order has changed to "fulfilled" and you still have not received the email, please feel free to contact us!

Contact email: dokidokicosplay2019@gmail.com
The cosplay is ready for ship,order processing time is about 1-2 days.
Asian size --Please check the size chart carefully   (。◕ˇ∀ˇ◕)Welcome ask us for help about size chooseing with your height ,weight ,.waist ,bust,hip measuremnt .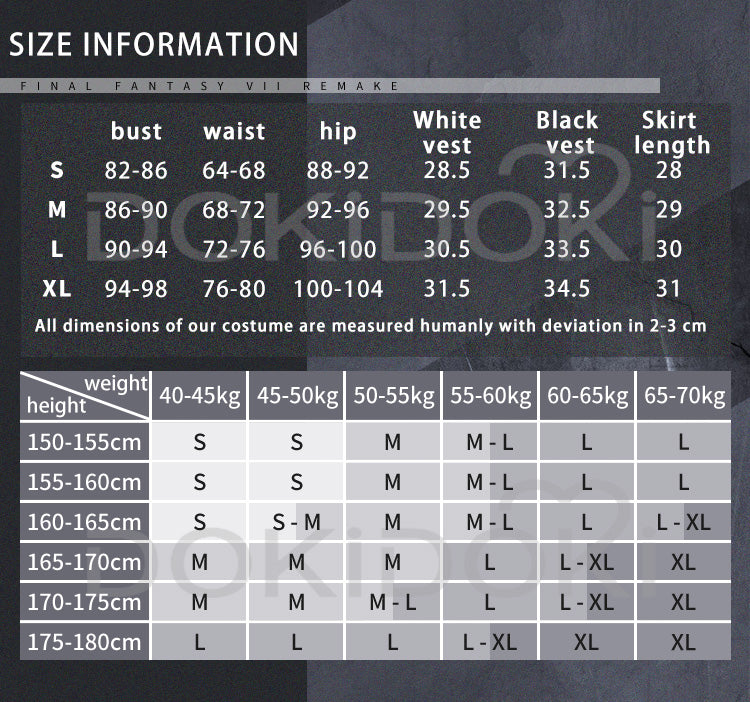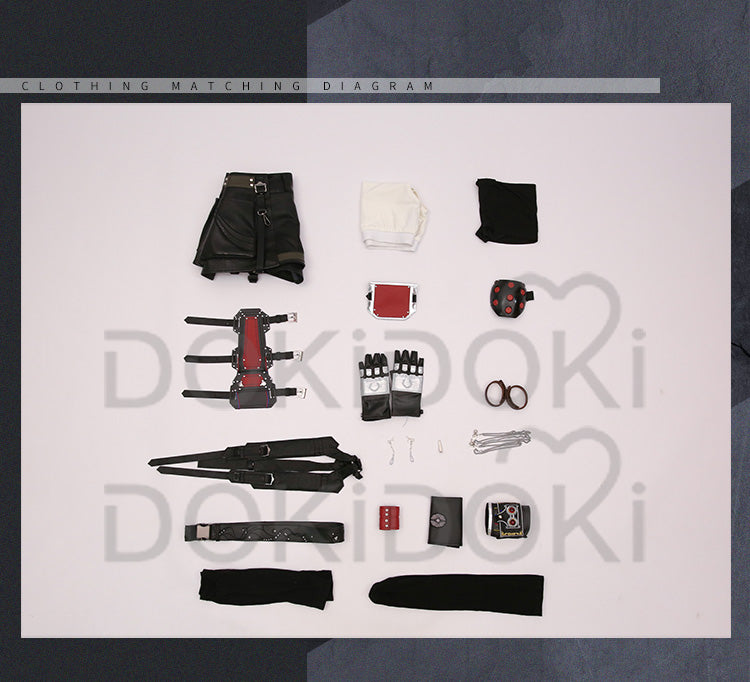 High quality cosplay!
I usually wear size S for tops and size M for bottoms, so I ordered size M. The skirt has a zipper on the side but I cant close it fully, but I want to lose weight either way so hopefully it closes soon. The tops, suspender and arm armor things are a bit big and long, but I am a small person so its certainly not dokidokis fault. I am 155cm and weigh 62kg at the moment, for my fellow dwarfs.
Overall I LOVE this cosplay and it has such a good quality for a bought one! It may be more expensive than others but its worth every penny! The details are amazing, and it even came with the earrings and the red band for the wig. The skirt alone is very heavy and has a pair of pants underneath.
The shipping was super fast too, they send it on the 29th october from china and arrived on the 2nd november in germany!
DokiDoki-SR Final Fantasy VII Tifa Lockhart Cosplay Costume Women