【Ready For Ship】DokiDoki-SR Game Genshin Impact Cosplay Xing Qiu Costume Xingqiu
Q: What is ready for ship/in stock/presale?

Ready For Ship:

The ready for ship items can be shipped out in 1-2 business days after you place the order! If you need something urgently, we recommend you choose the【Ready For Ship】items!

In Stock:

The order processing time of the【In Stock】items is about 7-10 days normally. Except the shoes.

The order processing time of the【In Stock】shoes is about 10-15 days normally.

Presale:

Presale means the item is under production right now. 

The processing times for presale items are estimated based on the factory's past production experience, we can't promise it will delay or come out sooner.

And the processing time varies for each presale product, please refer to the product details page!

When one batch comes out, preorders will be shipped out according to the sequence of ordering time! (oldest order placed will be sent first) 

Additions:

1.You can order the presale/instock/ready for ship items together.

2.The order processing time won't change no matter what shipping options you choose.

3.In most cases, we will ship your order within promised estimated time, just in case, the product status changes from in stock to presale, we will notify you or you can email us for latest progress.

Contact email: dokidokicosplay2019@gmail.com
Q: What is the estimated time of arrival?

The arrive time=Order Processing time (as shown above)+Transportation time

Transportation time:

Transportation time depends on the shipping options you choose: 

*Express Shipping:  7-10 days

*Commercial Shipping: 10-25 days

*E-Packet/China Post: 25-75 days 

You will see 2-3 shipping options when checkout!

If there is no shipping option, it is probably because you have too many items in your cart or the items are too heavy, we suggest you divide it into two orders, don't worry, the shipping fee is the same as if you order them together! 

Parcel tracking:

After the order is shipped, you will receive a shipping confirmation email with the tracking number and tracking link.

If you find that the status of your order has changed to "fulfilled" and you still have not received the email, please feel free to contact us!

Contact email: dokidokicosplay2019@gmail.com
Q:How much for shipping?

The shipping cost of the product is determined by its weight.
The shipping options will be displayed on the checkout page.

SR Level costumes are 0.5-1kg heavier than those of R level and similar products on the market at least .

The commercial shipping option price for Europe includes VAT tax. European customers choosing the commercial option do not need to worry about being charged VAT tax.
The costume is ready for ship,order processing time is about 1-2 days.
Asian size-Please read the size chart carefully. (◕ˇ∀ˇ◕)Welcome contact us for help about size choosing with your height ,weight ,waist ,bust,hip measurement.
 people who ordered the deposit can use the dsicount code -xingqiu for $5 off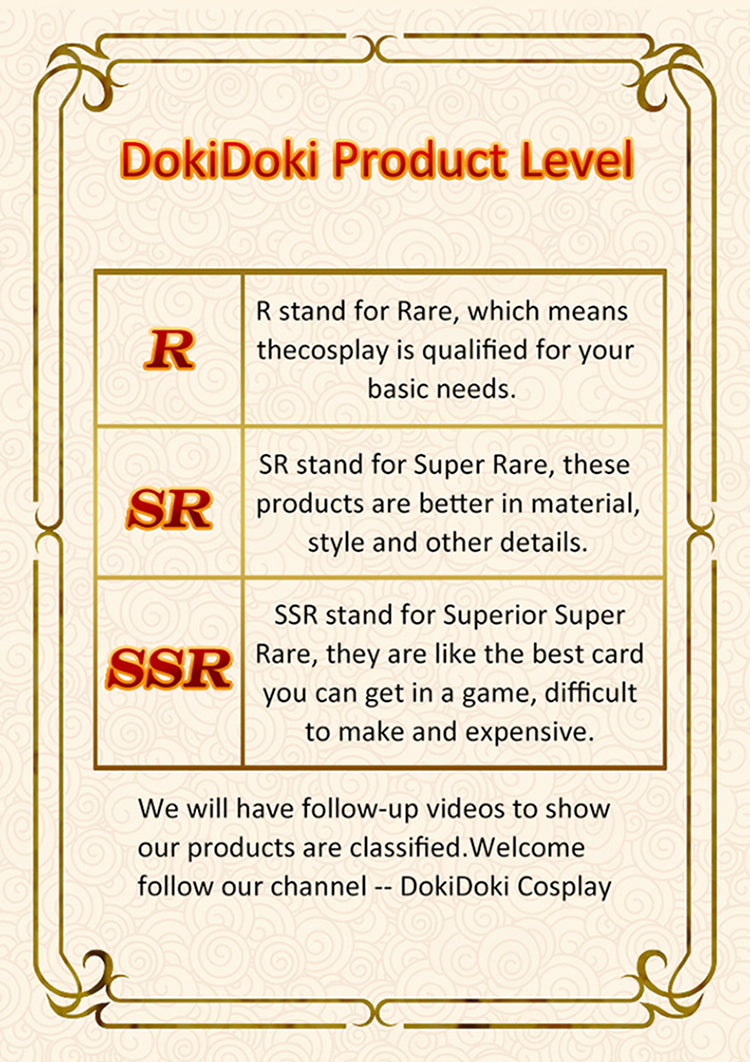 Xingqiu
Il est vraiment d'une bonne qualité si ce n'est que la taille est adaptée plus pour les hommes j'ai l'impression au niveau du torse
Fantastic!!
The quality is amazing and comfortable and I love all the details. Shipped out quickly and arrived within the time frame given when I placed the order. I had some issues with my order but was able to clear it up with support quickly and easily even during a holiday. Absolutely fantastic and would recommend.
【Ready For Ship】DokiDoki-SR Game Genshin Impact Cosplay Xing Qiu Costume Xingqiu
El cosplay llegó perfectamente y es de buenísima calidad
Great quality
The custom has great quality. Love the gartments and embroidery and feets perfect.
Arrived within the time arranged.