【Ready For Ship】DokiDoki-SR Game Genshin Impact Cosplay Tartaglia/Childe Costume
Washinng instruction---dry clean.


Due to the technical issue ,after heating press the back armor's paint easily fall off and have creases.
Please place order cautiously if you can't accept  it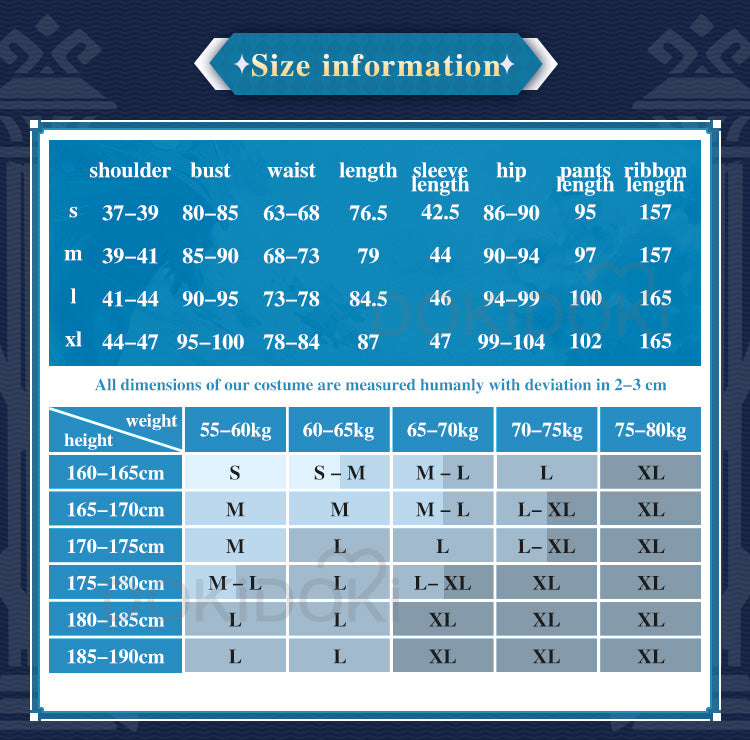 Big win for the Childe community
The pros: The details are amazing on this cosplay. Lots of little intricate pieces that make the cosplay look really good in person. I'm 5'2 and was worried about sizing but surprised to find the promotions worked great. Only critique would be the size of the belt it was hard to keep buckled. Overall I got a a lot of compliments and questions while cosplaying Childe at a recent convention. The fabric is reliable and comfortable.
Excellent Quality some size troubles
The detail and quality is excellent. The only issue is if you have calf muscles. The pants fit waist thru thigh but are quite tight almost impossibly so on my calf. I do not have massive calf muscles or anything just reasonably fit legs. Everyone is different this is just my experience. Just be prepared to potentially have to do some modifications.
Childe costume
The costume was great. There was a flaw with the mask but they sent a replacement and my daughter is so happy.
---
We Also Recommend