DokiDoki-SR Game Genshin Impact Diluc Cosplay Costume/Shoes
The cosplay is for presale
Second batch will come out in April or May

(we will update here if there are any change ) 
The wig link
https://dokidokicos.com/products/dokidoki-game-genshin-impact-cosplay-halloween-diluc-cosplay-wig-genshin-impact-diluc-cosplay-hair?_pos=3&_sid=8eb497469&_ss=r&variant=36922681852070
The boots circumstance is 38 cm
please notice the pants is smalle ,we recommend you order a size up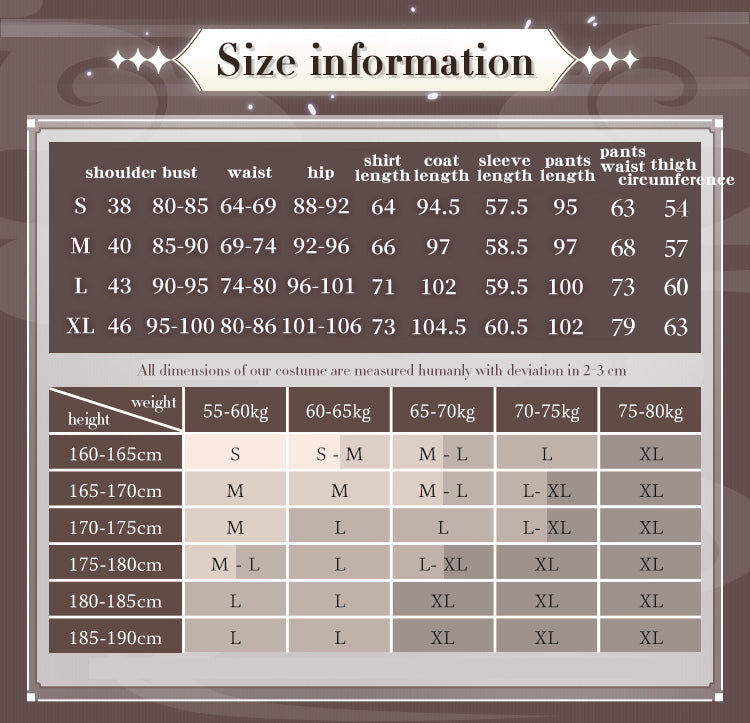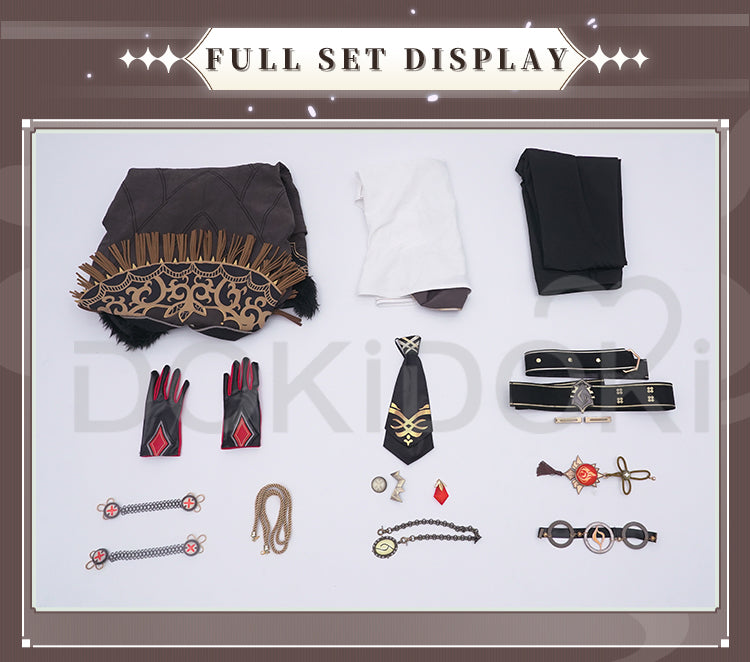 Diluc SR Review and Recommendations (Size S)
Overall, this is a superb cosplay! The quality is fantastic and the details are beautiful! However, I would like to give a little heads up to those who are considering purchasing this cosplay. First, because of shipping, the little frills on the shoulder will be kinda messy. This is easily fixed by taking a flat iron to it! Second, the pins and chains on the back of the jacket will likely be too heavy for the provided attachments. So, expect to sew it in for best stability. This also applied to the little pocket watch thing he has on his pocket. Third, the belts will be confusing and loose. I have come to the conclusion that using velcro and elastic to keep them in place is my best bet. Finally, pants will be tight! I personally love it as it helps my hips appear narrow, but be aware that it will be a squeeze. I ordered a small and if I had to guess, the pants are probably a US womens size 0. For comparisons sake, I am 5'5" and 115lbs and the small I ordered fit me really well, but I also prefer my cosplays to be form fitting / a bit on the tighter side. Oh! And as a personal preference, I took apart the vision and used orange and red sharpie over the LED lights to give it a warmer glow before filling the space where the vision was with 2mm foam so the glass bit can sit on top of the lights for a more uniform glow. Again, as a whole this cosplay is definitely one my favorite and I am super excited to wear it to photoshoots in the future!
Good quality, not easy to wear
This is my second genshin costume that I ordered here and once again, the quality of all the parts is good. Especially the jacket's fabric is nice. Unfortunately I'm not really able to wear it as it is. The biggest problem are probably the belts. I have no idea how to put them on. They don't really close, one is too long, the other too short and they simply pull the shirt into awkward positions. Maybe this isn't made for people with wide hips, I'm not sure. The pants don't fit me either, even though I ordered the biggest size. Most of the accessories are attached with partially flimsy safety pins. Some of them aren't even attachable as shown in the pictures, because it seems like there are hooks missing? However, I really like that they are all made out of metal. The vision even comes with a light, where you can replace the batteries. It looks great overall, but I have to find a way to attach the belts properly and possibly sew a bit, since I already ripped off one of the belt loops trying to figure out where the belts go.
---
We Also Recommend