【Shoes Ready For Ship】DokiDoki-SR Game Genshin Impact Cosplay Xiao Costume Men Shoes
The cosplay is for presale 
Order processing time is about  4-5 months normally
Next batch will come out in July
We are not sure  if it  delay or come out sooner 
Your order will be sent out once the factory finish producing 
(we will update here if there are any change)
click the photo link to wig page↓↓↓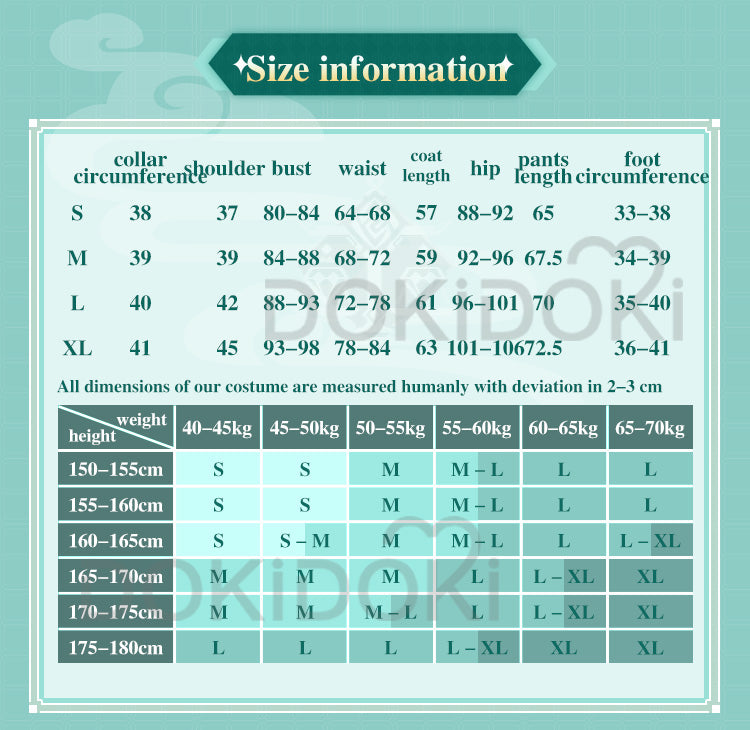 Great attention to detail
Bought this cosplay and the shoes for my fiancée. Really happy with the details and materials used on this outfit. It's been worn on multiple occasions and has held up despite hours of wear.
super soddisfatta
sono super contenta<3, mi è arrivato della taglia perfetta, le misure coincidono perfettamente, e se devo cercare il pelo nell'uovo è che la lanterna mi si è rotta un paio di volte ma niente di grave, solo i gancetti che la reggevano e poi si, il pezzo in plastica che accerchia i corni sulla spalla di xiao non sta su, ma ho visto che è proprio un difetto comune di questo cosplay , ho dovuto attaccarlo con l'attack, e ultimissima cosa è la vision, anche quella mi è toccato cucirla, sennò la spilla si staccava molto spesso, sono piccoli difetti insulsi secondo me questo perché il resto del cosplay è favoloso, pieno di dettagli e ricami, lo amo, consiglio a tutti di prenderlo
【Shoes Ready For Ship】DokiDoki-SR Game Genshin Impact Cosplay Xiao Costume Men Shoes
Great quality cosplay!
I'm a US Size M and I ordered an Asian Size XL for my Xiao cosplay and it's the perfect fit! This cosplay is VERY confusing to put on the first time, but the excellent quality makes up for it. The only thing I did not like on the cosplay was the size and weight if the vision - I plan on getting a smaller vision for Xiao in the future.
DokiDoki-SR Game Genshin Impact Cosplay Xiao Costume Men Shoes
---
We Also Recommend