DokiDoki-SR Game Genshin Impact Cosplay Xiao Costume Men Shoes
The cosplay is for presale 
Order processing time is about  4-5 months normally
Next batch will come out in Feb
We are not sure  if it  delay or come out sooner 
Your order will be sent out once the factory finish producing 
(we will update here if there are any change)
click the photo link to wig page↓↓↓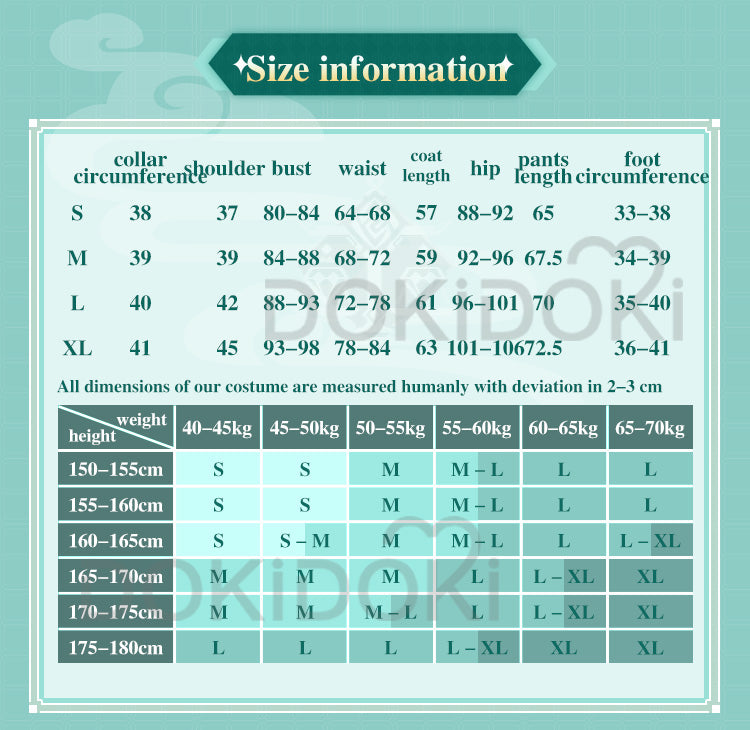 Shoes
I think they're the most comfortable cosplay boots I've ever bought. The zipper on the back does not bother at all and the seams are perfect. As always, Dokidoki did not disappoint me❤️
LOVE
And who undresses anymore?
I love him, I only loved him from the presentation, I love him even more now that he is finally here at home with me.
Xiao is the character I love the most in Genshin Impact and having this cosplay marvel is immense satisfaction.
This cosplay is EVERYTHING perfect ❤️
Really happy
I'm really happy with the result and the quality! My dad ordered it about 2 weeks ago, back then it was still on presale, a few days ago my size (M) was ready for ship and it arrived within 3 days?. We used the most expensive shipping and we had no problems.
About the sizing:
You can trust the sizing chart! I am 1,65cm and my weight is about 53k and i ordered M. It fits perfectly! If you want it to be more loose or if you're worried it will be close just order one size bigger it should work! The upper part of the pants is a little bit tight , but you get used to it and you can still move properly! The shirt feels nice on the skin, and the zipper on the side makes it possibly to get in and out of the shirt pretty easy. The parts on the gloves are also a lil tight but you can still close them! The fabrics are really nice and detailed and it feels really good! The accessoires/details are awesome! It's just hard to put everything on by your own! My mom had to help me!
Minor negativities!
The fabrics along the neck are a lil itchy! Maybe it put it on wrong , but sometimes it was annyoing but u get used to it. The ball that he wears on his side arrived broken! But just a minor thing , with a lil glue the pins will be fine again it could happen all the time so no problem. The belt is a little bit too short and there are to many buttons! I have a bigger waist so i woulnt be able to use all buttons and the buttons are white! So everyone can see that one loneyl button on my lover hip lmao but not a big deal. As i said it was hard to put it on by myself but if you have time maybe you will be able to do it on your own! The tattoo sheet wasnt packaged well so it was messed up it was hard to get the tattoos on but its not a big deal!
General:
I am really hapoy with the cosplay! Everything went perfect and it arrived for christmas! I love Xiao and all the details especially on the fabrics are perfect!
Beautifully detailed
The costume looks and feels high quality. It manages to capture all the small details of Xiao's costume perfectly.
Dokidokicos also put up a super helpful video to demonstrate how to put this on.
---
We Also Recommend