【Costume Ready For Ship】DokiDoki-SR Game Genshin Impact Cosplay Klee Cosplay Costume/Backpack
Q: What is ready for ship/in stock/presale?

Ready For Ship:

The ready for ship items can be shipped out in 1-2 business days after you place the order! If you need something urgently, we recommend you choose the【Ready For Ship】items!

In Stock:

The order processing time of the【In Stock】items is about 7-10 days normally. Except the shoes.

The order processing time of the【In Stock】shoes is about 10-15 days normally.

Presale:

Presale means the item is under production right now. 

The processing times for presale items are estimated based on the factory's past production experience, we can't promise it will delay or come out sooner.

And the processing time varies for each presale product, please refer to the product details page!

When one batch comes out, preorders will be shipped out according to the sequence of ordering time! (oldest order placed will be sent first) 

Additions:

1.You can order the presale/instock/ready for ship items together.

2.The order processing time won't change no matter what shipping options you choose.

3.In most cases, we will ship your order within promised estimated time, just in case, the product status changes from in stock to presale, we will notify you or you can email us for latest progress.

Contact email: dokidokicosplay2019@gmail.com
Q: What is the estimated time of arrival?

The arrive time=Order Processing time (as shown above)+Transportation time

Transportation time:

Transportation time depends on the shipping options you choose: 

*Express Shipping:  7-10 days

*Commercial Shipping: 10-25 days

*E-Packet/China Post: 25-75 days 

You will see 2-3 shipping options when checkout!

If there is no shipping option, it is probably because you have too many items in your cart or the items are too heavy, we suggest you divide it into two orders, don't worry, the shipping fee is the same as if you order them together! 

Parcel tracking:

After the order is shipped, you will receive a shipping confirmation email with the tracking number and tracking link.

If you find that the status of your order has changed to "fulfilled" and you still have not received the email, please feel free to contact us!

Contact email: dokidokicosplay2019@gmail.com
 The costume is ready for ship,order processing time is about 1-2 days.
The backpack can only be shipped by E-packet/China post due to huge size .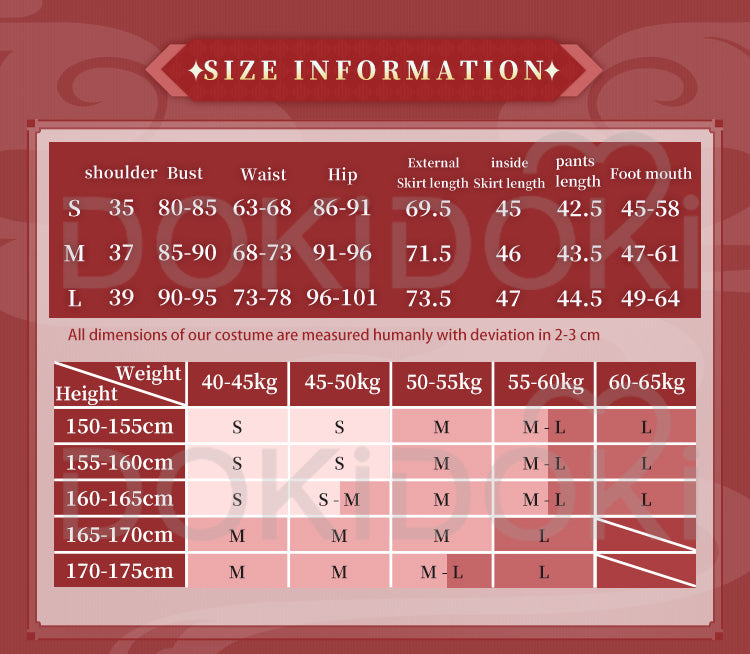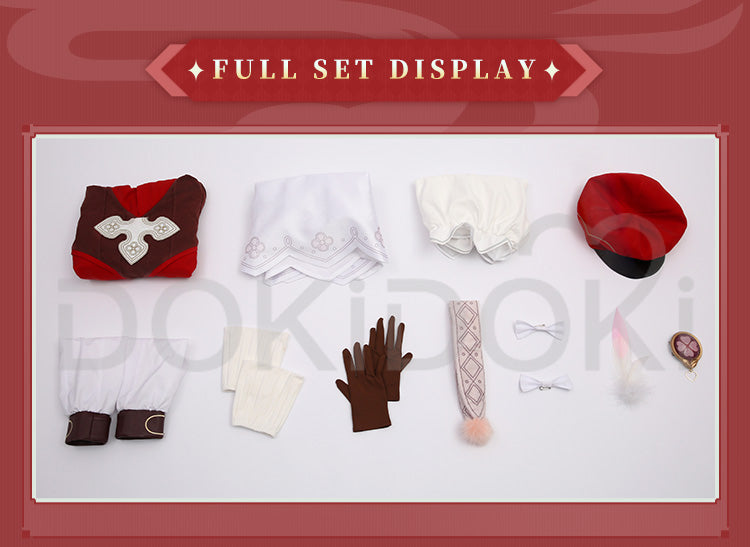 Klee Backpack
I love this backpack. The quality is great. And from the size also fits a lot purely!
The only thing that might bother is, the backpack can only be closed with 2 magnets. A zipper in addition would have been nice.
So cute!!
I only purchased the backpack in SR quality but it is so cute!! It's also very large and can hold a ton of stuff, which has been great for conventions! The straps are adjustable and the vision lights up! (The only photo I have of it is from the side, sorry!) If you've got any questions about it I'd be happy to help, my ig is @ glossighost
Nice cosplay
The cosplay came after like 3 weeks i think bit when i tried it on the hay was too big! And the dress was kinda confusing to put it on but i found out.The cosplay was really great!
Good quality but disappointed
Bag arrived, sadly parts were broken. I emailed and was told I would have the parts shipped. That was around 2 months ago, and nothing has arrived. Backpack now doesn't have all parts, so that's great. Otherwise though the bag is pretty good quality, do recommend.
DokiDoki-SR Game Genshin Impact Cosplay Klee Cosplay Costume/Backpack