DokiDoki-R Game Genshin Impact Sangonomiya Kokomi Cosplay Costume Maid Cute
PRESALE SIZE order processing time is 120 days
Asian size-Please read the size chart carefully. (◕ˇ∀ˇ◕)Welcome contact us for help about size choosing with your height ,weight ,waist ,bust,hip measurement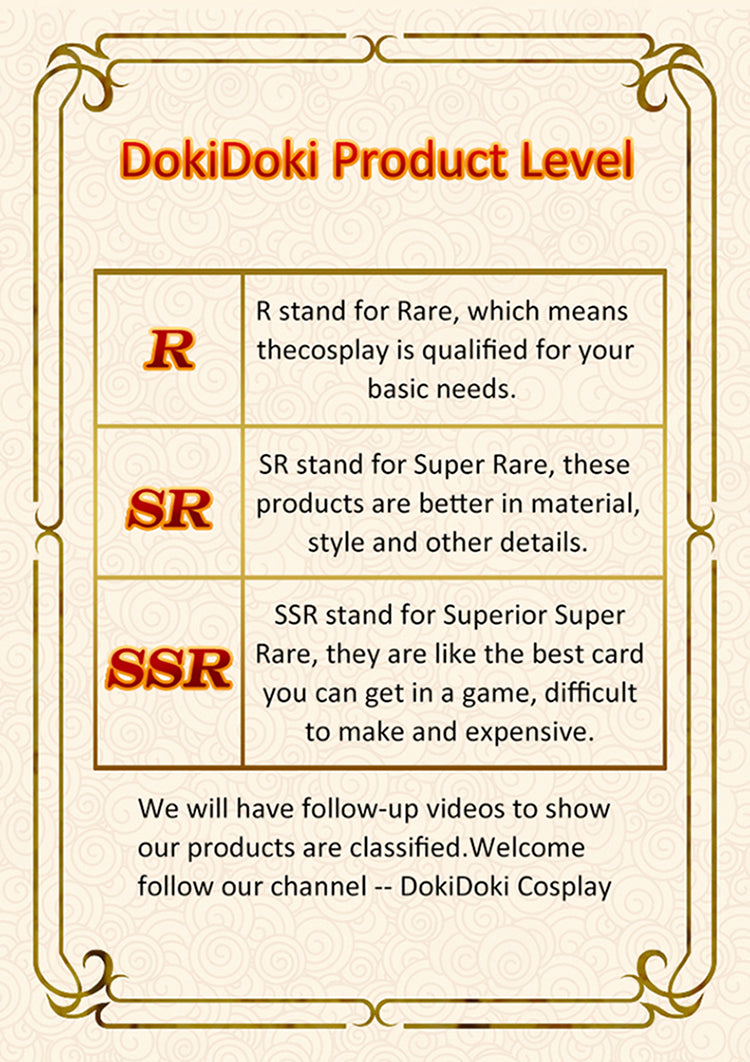 Super cute
Really cute and beautiful. <3 I wore it in our Genshin Tea House and everyone loved it! When i'm in this dress i feel myself beautiful too. <3 Sadly, the original vison is falling apart. :(
Super cute
Really cute and beautiful. <3 I wore it in our Genshin Tea House and everyone loved it! When i'm in this dress i feel myself beautiful too. <3
Love this
It's cute and I love it <3 I would size up a size or two to asian a size.
Good quality a bit small
I got size XL and I have a 99cm waist. It was a bit tight and can't zip up the back without someone's help. I can't lift my arms up too much either but other than that it was a pretty good purchase. Also something to keep in mind is that everything needs to be pinned to the dress, the bows and necklace charm. 8.5/10 for me
Absolutely Wonderful (if you're tiny)
I want to start by saying that the costume is wonderfully beautiful and super comfortable and that this review is not to detract from that, simply that the sizing feels off and some off the details/accessories or lacking.
Admittedly when I ordered I was at the high end of the size spectrum, even for the large, but I still decided screw it and preordered it anyways. I was super excited when it arrived and I can still safely say that after having it for 2 months it still sparks the same amount of joy, but that doesn't change the fact that I will have to alter it before the convention I'm attending in July. It's too small for me and since there is no XL and beyond sizes I didn't even have a chance to get the costume in my size. Its a shame too because im not even that big, in US women's size I'm usually a medium, though really I can fit into some stalls. I think the thing that did it here is my chest, I wear a 36C so thats fairly large. Also I'm 5'1-5'2 and it falls just above my knees. I say all of this to give an idea on the accuracy of the sizing. Admittedly it's not a hard fix, I'll simply alter it so it can be laced up in the back instead of the zipper but it is inconvenient.
With all of that being said its still a wonderful costume and it came super fast once it released, and it released when they said It was expected to so no complaints there. As for the details and accessories I mentioned at the beginning, those items are the maid headband and the two Pom-pom pieces that clip onto it and finally, the vision. The headpiece feels too bulky and big on my head, and honestly I feel it looks quite dumb, the cosplay is much cuter without it. Second is the vision, its well done for a fabric and plastic vision and isn't bad, but it isn't great. I just replaced mine with a vision I made at home with resin, using molds I found on Etsy.
TLDR: it's great, just small for the average person in the US and some of the accessories feel unnecessary to me, also I replaced the vision it came with with my own.
---
We Also Recommend