【M/L/XL Ready For Ship】DokiDoki-SR Game Genshin Impact Cosplay Qiqi Costume Halloween
Q: What is ready for ship/in stock/presale?

Ready For Ship:

The ready for ship items can be shipped out in 1-2 business days after you place the order! If you need something urgently, we recommend you choose the【Ready For Ship】items!

In Stock:

The order processing time of the【In Stock】items is about 7-10 days normally. Except the shoes.

The order processing time of the【In Stock】shoes is about 10-15 days normally.

Presale:

Presale means the item is under production right now. 

The processing times for presale items are estimated based on the factory's past production experience, we can't promise it will delay or come out sooner.

And the processing time varies for each presale product, please refer to the product details page!

When one batch comes out, preorders will be shipped out according to the sequence of ordering time! (oldest order placed will be sent first) 

Additions:

1.You can order the presale/instock/ready for ship items together.

2.The order processing time won't change no matter what shipping options you choose.

3.In most cases, we will ship your order within promised estimated time, just in case, the product status changes from in stock to presale, we will notify you or you can email us for latest progress.

Contact email: dokidokicosplay2019@gmail.com
Q: What is the estimated time of arrival?

The arrive time=Order Processing time (as shown above)+Transportation time

Transportation time:

Transportation time depends on the shipping options you choose: 

*Express Shipping:  7-10 days

*Commercial Shipping: 10-25 days

*E-Packet/China Post: 25-75 days 

You will see 2-3 shipping options when checkout!

If there is no shipping option, it is probably because you have too many items in your cart or the items are too heavy, we suggest you divide it into two orders, don't worry, the shipping fee is the same as if you order them together! 

Parcel tracking:

After the order is shipped, you will receive a shipping confirmation email with the tracking number and tracking link.

If you find that the status of your order has changed to "fulfilled" and you still have not received the email, please feel free to contact us!

Contact email: dokidokicosplay2019@gmail.com
 The costume is ready for ship,order processing time is about 1-2 days.
The next batch of the presale option will come out in late Oct.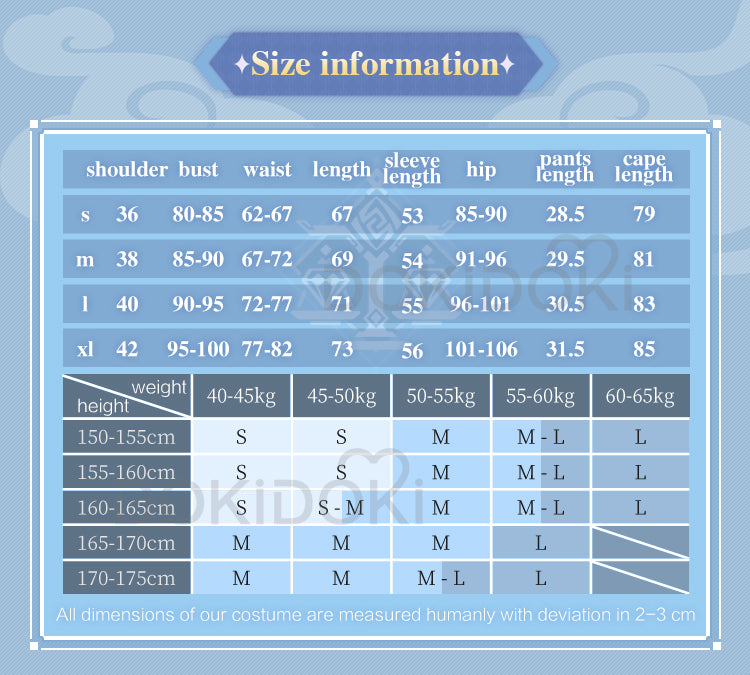 QIQI 🥰🥰🥰🥰🥰
Shes a bit difficult to put on but thats mostgenshin cosplays. And im gonna have to make adjustments to the hat so it stays to my head. But other than that amazing cosplay🥺🥺💜💜 i like how hard the hat is and the necklace is amazing. Shame i saton the back bits of the coat and broke them😳😳
【Ready For Ship】DokiDoki-SR Game Genshin Impact Cosplay Qiqi Costume Halloween
Cosplay Qiqi
J'aime beaucoup trop ! Si vous portez du M européens prenez une taille L ! Les chaussures prenez votre pointure c'est nickel !
Absolutely perfect
I had to make some minor fixes, but as someone who does a whole lot of crafting, It's not an issue whatsoever for me! I wish the sleeves were hemmed, as I worry about the fabric fraying, but it's nothing I can't do myself. I am so utterly pleased with this cosplay, I didn't want to take it off!! I ordered a size small, true to my size, and it fits absolutely perfectly. I'd fully recommend this product!! The vision doesn't come with batteries, but not hard to get. Really hefty, super sturdy. the back of the vision capsule snaps open to allow batteries to easily be put in and out.
The details are absolutely perfect. Nothing arrived broken, I do not regret this purchase at all!! The earrings are included and arrive on fake earring clasps for those without real piercings, they take a bit to fenangle on, but I changed them onto real earring hooks pretty easily. Everything feels amazing.
I was a little worried about the sleeves not fitting, but they fit great! I have a little issue NORMALLY with stockings, but the socks stayed really well! 10/10, would complete recommend.
Will definitely be back to order the shoes as well!
【Ready For Ship】DokiDoki-SR Game Genshin Impact Cosplay Qiqi Costume Halloween