【Ready For Ship】【Last Batch】DokiDoki-SR Game Genshin Impact Cosplay Lisa Costume/Shoes
Q: What is ready for ship/in stock/presale?

Ready For Ship:

The ready for ship items can be shipped out in 1-2 business days after you place the order! If you need something urgently, we recommend you choose the【Ready For Ship】items!

In Stock:

The order processing time of the【In Stock】items is about 7-10 days normally. Except the shoes.

The order processing time of the【In Stock】shoes is about 10-15 days normally.

Presale:

Presale means the item is under production right now. 

The processing times for presale items are estimated based on the factory's past production experience, we can't promise it will delay or come out sooner.

And the processing time varies for each presale product, please refer to the product details page!

When one batch comes out, preorders will be shipped out according to the sequence of ordering time! (oldest order placed will be sent first) 

Additions:

1.You can order the presale/instock/ready for ship items together.

2.The order processing time won't change no matter what shipping options you choose.

3.In most cases, we will ship your order within promised estimated time, just in case, the product status changes from in stock to presale, we will notify you or you can email us for latest progress.

Contact email: dokidokicosplay2019@gmail.com
Q: What is the estimated time of arrival?

The arrive time=Order Processing time (as shown above)+Transportation time

Transportation time:

Transportation time depends on the shipping options you choose: 

*Express Shipping:  7-10 days

*Commercial Shipping: 10-25 days

*E-Packet/China Post: 25-75 days 

You will see 2-3 shipping options when checkout!

If there is no shipping option, it is probably because you have too many items in your cart or the items are too heavy, we suggest you divide it into two orders, don't worry, the shipping fee is the same as if you order them together! 

Parcel tracking:

After the order is shipped, you will receive a shipping confirmation email with the tracking number and tracking link.

If you find that the status of your order has changed to "fulfilled" and you still have not received the email, please feel free to contact us!

Contact email: dokidokicosplay2019@gmail.com
Q:How much for shipping?

The shipping cost of the product is determined by its weight.
The shipping options will be displayed on the checkout page.

SR Level costumes are 0.5-1kg heavier than those of R level and similar products on the market at least .

The commercial shipping option price for Europe includes VAT tax. European customers choosing the commercial option do not need to worry about being charged VAT tax.
The cosplay is ready for ship.
Order processing time is about 1-2 business days normally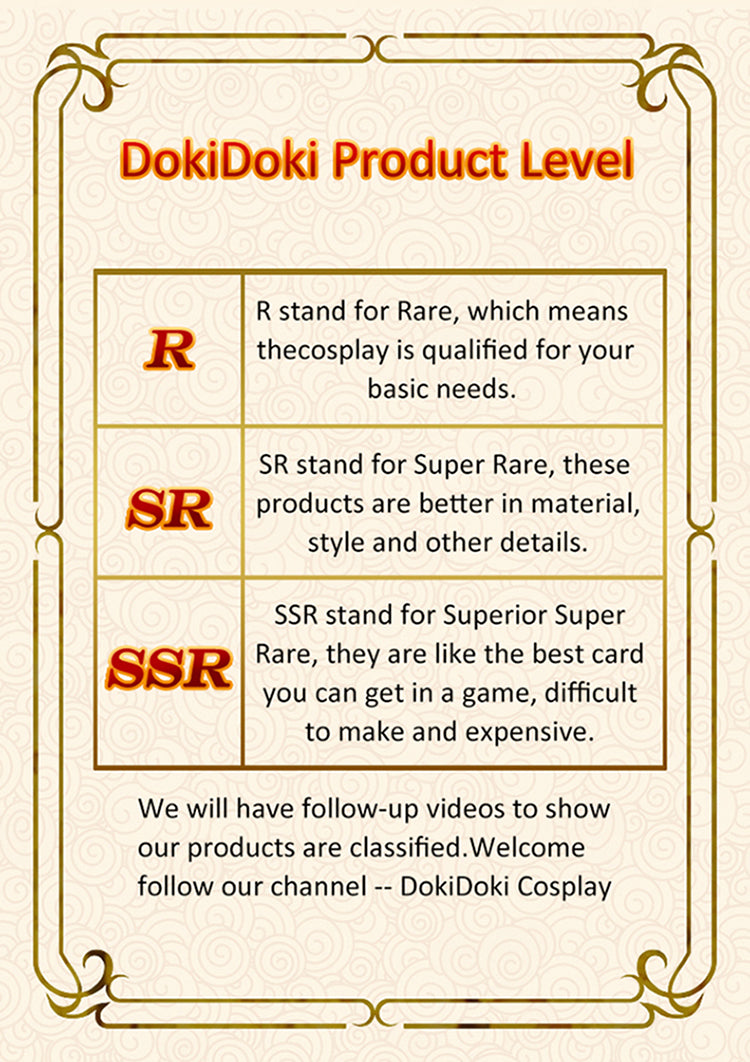 Wonderful cosplay but-
The cosplay is BEAUTIFUL!!! Only took a long time to be sent over (about 7 months), but staff was very nice when I asked about it, only wished they'd have warned me about the delays and not waited until I went there to ask about it. But besides that minor thing I really loved it!!!
Lisa-comic con
Absolutely amazing costume can't wait to wear it for the comic con I'm going to this month. The detail is beautiful. A few little things fell off but very easily repairable. Definitely recommend doki doki if anyone wants beautiful outfits for cosplay.
I really like this cosplay! A lot of people complimented me for it when I was at a comix!
Amazing quality
Amazing details, sizing is a bit smaller, than shown in the chart, but that was no problem for me since I'm very thin anyway. Love the quality, the "jacket" was a bit itchy but that's no problem. Highly recommend, it came within a week Form China to Germany with the CNE shipping totally worth it.
Lisa Cosplay <3
Overall really nice but there were a few small details that fell off & had to be glued back on! Sadly the chain around her hat also broke after wearing it only once & the threads in the front were a little bit more visible than expected!
But I really love this cosplay so go for it if you want a high quality Lisa cosplay <3
Feel free to follow me on Instagram for more pictures of the cosplay @chilli.cosplays !!!