Dokidoki-R Anime Cosplay Cosplay Gojo Sator Sex Reversion Costume Halloween
Q: What is ready for ship/in stock/presale?

Ready For Ship:

The ready for ship items can be shipped out in 1-2 business days after you place the order! If you need something urgently, we recommend you choose the【Ready For Ship】items!

In Stock:

The order processing time of the【In Stock】items is about 7-10 days normally. Except the shoes.

The order processing time of the【In Stock】shoes is about 10-15 days normally.

Presale:

Presale means the item is under production right now. 

The processing times for presale items are estimated based on the factory's past production experience, we can't promise it will delay or come out sooner.

And the processing time varies for each presale product, please refer to the product details page!

When one batch comes out, preorders will be shipped out according to the sequence of ordering time! (oldest order placed will be sent first) 

Additions:

1.You can order the presale/instock/ready for ship items together.

2.The order processing time won't change no matter what shipping options you choose.

3.In most cases, we will ship your order within promised estimated time, just in case, the product status changes from in stock to presale, we will notify you or you can email us for latest progress.

Contact email: dokidokicosplay2019@gmail.com
Q: What is the estimated time of arrival?

The arrive time=Order Processing time (as shown above)+Transportation time

Transportation time:

Transportation time depends on the shipping options you choose: 

*Express Shipping:  7-10 days

*Commercial Shipping: 10-25 days

*E-Packet/China Post: 25-75 days 

You will see 2-3 shipping options when checkout!

If there is no shipping option, it is probably because you have too many items in your cart or the items are too heavy, we suggest you divide it into two orders, don't worry, the shipping fee is the same as if you order them together! 

Parcel tracking:

After the order is shipped, you will receive a shipping confirmation email with the tracking number and tracking link.

If you find that the status of your order has changed to "fulfilled" and you still have not received the email, please feel free to contact us!

Contact email: dokidokicosplay2019@gmail.com
The costume S is in stock,order processing time is about 7-10 days.



Asian size-Please read the size chart carefully. (◕ˇ∀ˇ◕)Welcome contact us for help about size choosing with your height ,weight ,waist ,bust,hip measurement.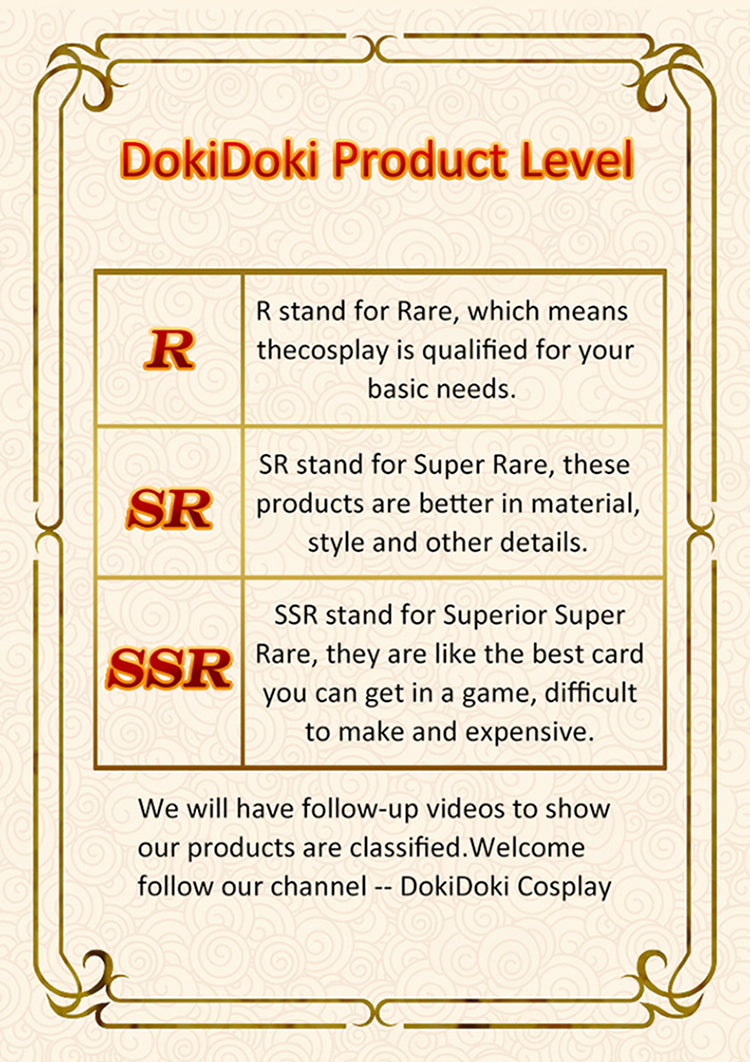 its cool!
Usually, i am a size S but it was sold out so i bought an M.. probably a better choice! its a nice dress, the stockings keep sliding off though, they are too big for me. It also smells but its normal for latex :)! i recommend
AMAZING COSPLAY!!
I'm SO glad not only to listen to the comments but also my gut. Instead of ordering 1 size up I didn't do 2 sizes, I'm usually a medium but since this is Asian sizing I ordered the XL and it fit like a glove! I'm 5'3, 130lbs, and I'm a curvy girly with tits and a butt.
It fits super well and very nice, can't wait to wear it during the cold because its super hot to wear LOL
Thank you so much for the review! We really appreciate your feedback!! ʕ•̀ω•́ʔ✧
Amazing BUT!!
The costume was amazing, nailed everything in the image. The only thing is that I wish I had known going a size up will still be too small so my recommendation is going two sizes up if you're a curvy person. I'm a medium in most dresses but this medium was still too small but other than that the outfit was awesome and I loved it
Dokidoki-R Anime Cosplay Jujutsu Kaisen Cosplay Gojo Satoru Sex Reversion Costume
A little small
Looks just like the picture just wish I went up a size